Artists and researchers team up to find sustainable solutions
Category

Date
Artists from around the globe have been connected with Leeds academics to explore climate change and justice in an online research project.
Five academics from the University of Leeds have worked with internationally based artists to support climate change initiatives as part of a project called 'For the Public Good' (FTPG).
Developed by the British Council, LEEDS 2023, and the University's Horizons Institute and Cultural Institute, the eight-week project gave artists and academics a chance to work together without any set expectations about what they would produce.
The resulting projects took place in Kenya, Turkey, India, Zimbabwe and Ghana, using digital technologies such as artificial intelligence (AI) and gaming to address climate change concerns.
Using AI to imagine sustainable futures in India
'Speculative Visions' was led by Kanchan Joneja, design researcher and co-founder of Off Centre Collective in New Delhi, and Dr Viktoria Spaiser, Associate Professor in Sustainability Research and Computational Social Science.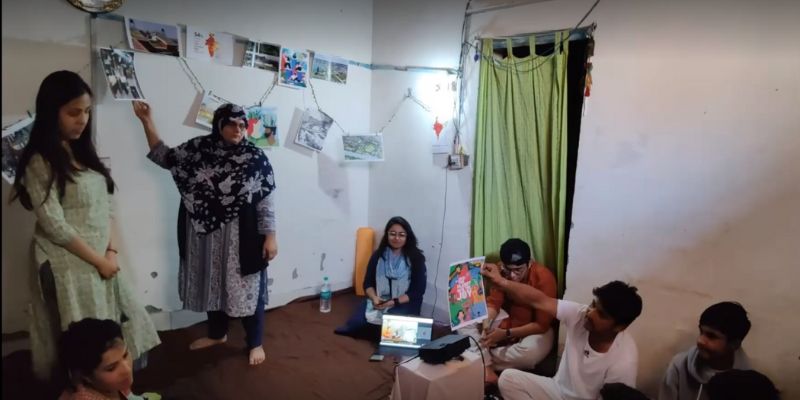 A community group discusses what sustainability could look like in their local area
Joneja applied to the programme to find ways to support marginalised communities within India, who are disproportionately affected by climate change.
Together with AeSha Foundation, the collaboration looked into the creation of artificial intelligence (AI) generated artworks the community's hopes for the future.
In a workshop, local community members spoke about what they imagined their neighbourhood could look like in a sustainable future. Their words were fed as prompts to the AI live during the workshop, instantly generating artworks that allowed the group to see their visions come to life.
Dr Spaiser said: "What we tried is to use AI to empower people, who are rarely given a voice when we explore our post-carbon futures, to do exactly that, to imagine a positive, post-carbon future, that includes communities like their own."
Joneja said: "Ideation and visualisation are great tools to build a collective sense of a liveable future."
Building AI artworks together helps kick-start a dialogue within the community, which can then allow for community driven solutions, the research team said.
Games, climate change and the LGBTQIA+ community
Patrick Miller, playwright and public advocacy consultant from Zimbabwe, was paired with Dr Martin Zebracki, Associate Professor of Critical Human Geography, to think about how games can be used to make more people aware of climate change.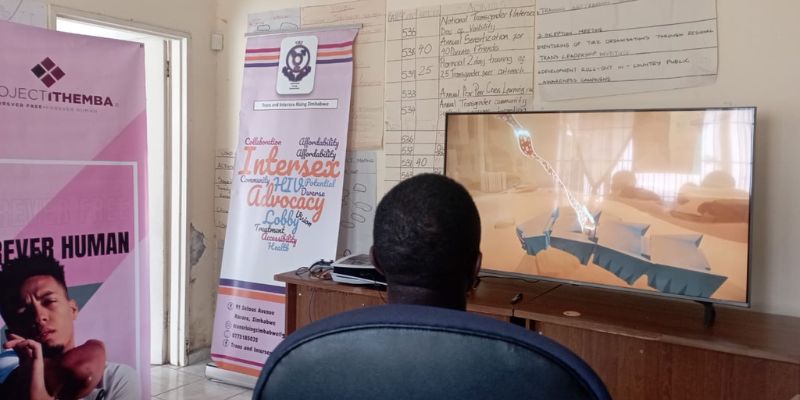 A member of Trans and Intersex Rising in Zimbabwe playing a video game
Gaming is an empowering tool to educate communities about climate change, according to Miller, as participants can immerse themselves in new environments that reflect acute environmental changes.
Miller worked closely with non-profit organisation, Trans and Intersex Rising in Zimbabwe (TIRZ), to deliver workshops on climate change impact and gaming as part of the project.
Miller said: "Video games are the next wave in climate activism," and reported that the United Nations are working with the gaming industry to inspire a new wave of climate action.
Sustainable practice in music production
Ercan Bektas Ulger, an Istanbul-based electronic music composer, was paired with Phil Purnell, a Professor of Materials and Structures in Civil Engineering.
The project suggested that leftover sound samples could be used to reduce consumption in the music industry, as energy is used to create sounds like the rumble of factory machines or beeping car horns.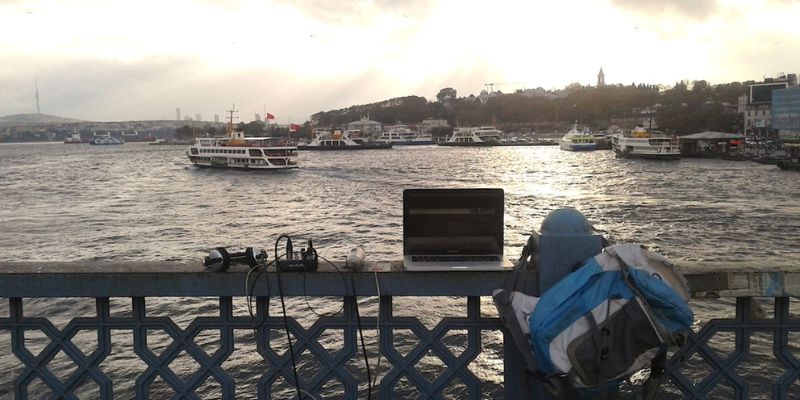 A sound recording session overlooking the Bosporus, Istanbul 
Ulger worked with local music makers and field recordists by sharing leftover sound samples instead of creating them anew. This practice challenges producers in new ways because they can be creative when adapting existing sounds.
The next stage of this project will see the publication of a series of essays in Dünyahali (the state of the World), a non-profit magazine that focuses on environmental issues and seeks new ways to fight climate change and the environmental crisis.
Community co-created fashion standards
Paul Akrofieand, Chief Executive Officer of award-winning African fashion design and manufacturing company, Real People's Company, was paired with Dr Neil J. W. Crawford, Research Fellow in the School of Geography.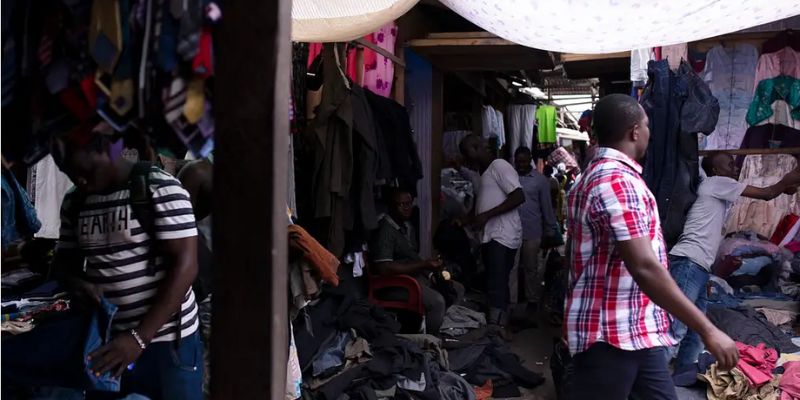 Kantamanto Market in Ghana. Photo by Kwadwo Agyei Addo, courtesy of The OR Foundation
The project aimed to find ways to introduce sustainable fashion practice into the local community in an authentic way, as the fashion industry in Africa is growing rapidly and producing a significant amount of waste.
Global symbols for sustainable development, such as the green recycle symbol, have had a limited local impact in Ghana, so the team decided to create localised symbols that have intrinsic meaning for the community.
Working with local artisans from the Kantamanto market, the team adapted Ghanaian symbols using AI to create an index score card of new symbols to represent different elements of sustainability.
As Akrofieand and his team continue to develop the index card, they are also building training materials and guides for local artisans and designers from the market.
The Climate Change Library
Wanjiru Koinange, writer and restorer of libraries from Kenya, was paired with Dr Diane Morgan, Lecturer in Cultural Studies at the School of Fine Art, History of Art and Cultural Studies.
Koinange's work as a restorer of libraries has seen the successful transformation of two of the oldest libraries in Nairobi into centres of art, or in her own words, "palaces for the people."
This library is intended as a tool for anyone looking for climate change information specific to Kenya, for now.
Koinange and Dr Morgan looked at the role of libraries as a central point of information for climate change and climate action.
To make academic and artistic information available and accessible to audiences in Kenya, Koinange built an online repository of resources on climate change, called the Climate Change Library.
Koinange said: "This library is intended as a tool for anyone looking for climate change information specific to Kenya, for now. This library is truly designed for everyone: children, adults, educators, creators, researchers, professionals, scientists, policymakers…. Everyone."
Further information
Originally published on 31 March 2023.
For media enquiries, contact Yasmeen Soudani, Communications Officer in the Cultural Institute, by email on y.soudani@leeds.ac.uk.
For the Public Good was funded by the British Council and led by LEEDS 2023 with support from the University of Leeds' Horizons Institute and Cultural Institute.
Read more on the Cultural Institute's blog.
Follow the Cultural Institute on Twitter and the Horizons Institute on Twitter.