Alerting vulnerable communities to extreme weather
Category

Date
Scientists have been awarded £2 million to develop ways of alerting communities in South Africa, Zambia and Mozambique to extreme weather.
The project, involving researchers at the University and the National Centre for Atmospheric Science, will develop ways of getting accurate, short-range weather forecasts – a process known as nowcasting – to socially disadvantaged communities who are more likely to be impacted by extreme weather.
For example, people living in informal settlements close to a river will be more vulnerable to flash flooding, and people with disabilities may require early warnings to take action to protect themselves and their property.
Across Southern Africa, severe storms put hundreds of thousands of people at risk every year.
Last January, it is estimated 15,000 people were affected by floods in Zambia, and in April, over 400 people were killed by floods in Durban, South Africa. In Mozambique's last rain season, around 200,000 families were displaced.
Intense rainfall events are expected to increase in coming years because of climate change.
Doug Parker, Professor of Meteorology at Leeds and Science Co-ordinator at the National Centre for Atmospheric Science, said: "The accuracy of African weather forecasts is getting better and better, and the expansion of digital communications has revolutionised the way in which we can transmit warnings.
"But these advances will only have an impact on people's lives if we work to tailor information to their needs."
"Not everyone has a smartphone. Not everyone can read a message transmitted in English. We will trial and evaluate different warning systems in partnership with diverse groups across Southern Africa."
The research is part of the Met Office's Weather and Climate Information Services programme, which is commissioned by the UK's Foreign, Commonwealth and Development Office.
Nowcasting
One of the project's main objectives will be to build capacity for nowcasting – a process whereby real-time satellite images over Africa are used to predict weather conditions over the next six hours.
The team has also set out to improve short-term weather forecasts which look up to forty-eight hours ahead and will work to ensure that the forecasts are tailored for people in cities who need them most.
At the moment, urban communities are reliant on traditional weather forecasts generated by computer models in advance of the storm arriving. Yet in tropical regions, the behaviour of weather patterns is uncertain once they start to develop.
In collaboration with African authorities, scientists will use nowcasting to set-up short-term weather alerts that can be distributed via text and voice messages, and automated messages on smartphone applications.
The project builds on major initiatives to bring up to date information of approaching storms to communities in East Africa. That involved the development of the FASTA app, allowing people to access weather information on their mobile phones.
In addition, African SWIFT, a four-year research partnership with weather agencies and academics in East Africa, identified ways to better model the behaviour of storms over the continent.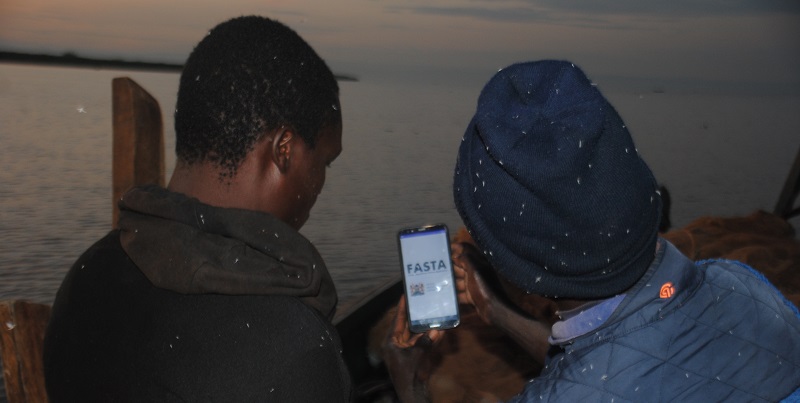 Fishermen check the weather on the FASTA app before taking to the water. Photo: Dominic Kirui
Saving lives
At the heart of this latest programme, the research team will run two weather forecasting testbeds, collaborative events that bring together regional weather forecasters and forecast users to evaluate current weather services and set-up new services tailored to user needs.
Professor Parker, who is based in the School of Earth and Environment at Leeds, said the aim is to get information from a satellite out to communities within about 30 minutes, and that inevitably poses technical challenges.
Development of the new weather services would be done in partnership, and that would include those communities who face the biggest risks from extreme weather, to ensure their needs are met.
Professor Parker said: "Short-range storm forecasts and nowcasts save lives and property, but they can be complex and relatively costly to generate. For the systems to be sustainable, it is essential that we identify and demonstrate business models for this kind of forecasting, so that African agencies can deliver the services long-term.
"Building on our experience in other parts of Africa, and worldwide, we aim to demonstrate how government, the private sector and philanthropic funding can provide the resources needed to maintain live-saving services in Southern Africa."
George Gibson, Programme Manager at the Met Office, said: "As we have seen with the tragic consequences of tropical cyclone Freddy, communities in sub-Saharan Africa are having to contend with ever-more extreme weather events, in part linked to climate change.
"Early-warning systems are an essential life-saving adaptation providing beleaguered communities with a chance of avoiding the worst of consequences."
Estelle de Coning, Head of the World Weather Research Programme at the World Meteorological Organisation said: "Aligning with the announcement of the United Nations Secretary General Dr António Guterres, for a major new initiative led by the World Meteorological Organisation and the United Nations Office for Disaster Reduction to provide everyone on earth protection against extreme weather events through effective early warning systems within the next five years, the project can go a long way to demonstrate how early warnings on a nowcasting timescale can improve adaptation and resilience in Southern Africa through the use of satellites and other data sources."
Further information
Originally published on 23 March 2023
For more details, please contact David Lewis by email – d.lewis@leeds.ac.uk
Top image: University of Leeds